**NOTICE**
BlueJeans is Being Retired!
No Use After December 31, 2023
NIC Replaces BlueJeans with Kaltura Virtual Classroom

DETAILS AND DATES
1. What is happening with BlueJeans?
Verizon, BlueJeans' parent company, is permanently retiring (sunsetting) their web conferencing platform, BlueJeans, in early 2024. BlueJeans will no longer exist. NIC has had BlueJeans since February 2020.
2. How does this impact North Island College?
NIC, along with other BC institutions, are part of BCNET's BlueJeans contract. BCNET's provincial contract with BlueJeans is also ending in late February 2024. NIC will no longer have access to BlueJeans. NIC requires you stop using BlueJeans by the end of December 2023.
3. What is replacing BlueJeans at North Island College?
Kaltura Virtual Classroom – sometimes called Kaltura Meetings (part of the Kaltura Video Cloud Platform which NIC already has been using since 2020) is the supported product that will replace BlueJeans for all instructional activities except for the Practical Nursing program, Winter 2024 ITV classes and ElderCollege classes.
In 2021, Kaltura (established in 2006) was selected as Canada's National Research and Education Network choice to provide online learning tools to schools across Canada. BCNET has a contract with Kaltura as part of its learning technologies suite for all BC post-secondary institutions. Over the past two years, some NIC instructors have already been using Kaltura Virtual Classroom. Some BC institutions (e.g., UNBC, Okanagan College) and other Canadian institutions (e.g., OntarioTech Univ., NSCAD Univ.) are also using Kaltura Classroom.
4. Why are we finding this out now?
When Verizon/BlueJeans made the public announcement in mid-August 2023, NIC was informed by BCNET that our contract was still viable until end of June 2024. It was a while later that we heard this was not the case and all BC institutions would all lose access in early 2024. Numerous discussions, testing and planning has been happening to confidently share next steps as soon as was possible.
5. Is it possible to have an extension to the February 2024 retirement date of BlueJeans?
No. The company is shutting down. DO NOT use BlueJeans past December 31, 2023. Ensure all learners, classes and recordings are moved out of BlueJeans by the end of December. Replace BlueJeans meeting links with Kaltura Virtual Classroom/Meeting links.
6. Why isn't NIC purchasing Zoom? Why can't I use my personal or other institutional Zoom account?
NIC is a small college with limited capacity. Students need a consistent learning experience that aligns with institutional supports and resources. NIC will support only one web conferencing platform: Kaltura Virtual Classroom for digital classes. You cannot use Zoom for any NIC instructional experience including using your personal or other institutional Zoom accounts. You must use Kaltura Virtual Classroom for all NIC courses and related NIC instructional activities including virtual office hours etc.
7. Why Can't I USE MICROSOFT TEAMS?
Instructors cannot use Microsoft Teams for instructional classes, courses activities including office hours, student meetings, guest speakers etc. Continue to use Teams for NIC non-instructional purposes like committees and meetings.
8. What platform will replace BlueJeans for the Winter 2024 ITV and Practical Nursing Campus-to-Campus classes?
A "room" account of Microsoft Teams will be used for all Winter 2024 ITV and Practical Nursing classes. This account allows for connectivity between campus rooms using the hardware NIC has in place. Kaltura Virtual Classroom doesn't offer such accounts. After Winter 2024 NIC will no longer offer ITV as a delivery format and will move to the HyFlex format in Fall of 2024.
ABOUT KALTURA VIRTUAL CLASSROOM
9. What is Kaltura Virtual Classroom or Kaltura Meetings?
Kaltura Virtual Classroom (Kaltura Meetings) is a browser-based desktop web conferencing platform that is already integrated into each NIC Brightspace course (Tools > Kaltura Media Gallery > Start Meeting) with a continuous virtual classroom space for up to 50 students. Virtual Classroom was purposely built for online instruction with teaching and learning at the front of its design. In one click, instructors and students can engage in a virtual classroom with no desktop software to download and install, no updating or additional tools to find and access. Kaltura also has a video conferencing mobile app (Android, iOS).
High quality live video sharing, interactivity and live quizzing are some of the top features, but also includes standard tools such as raise hand, collaborative whiteboard, screen sharing, breakout rooms, real time note-taking, recordings, group and private chat, and on-the-spot polling. Instructors can pre-build breakout groups and pre-upload content to a playlist along with sharing files with students – and it will be there the whole course. Recordings are automatically added to the Media Gallery for access with no more sharing of recording links.
10. How do I get a Kaltura Virtual Classroom account or NIC access?
**Do not start a free trial, purchase, install or sign up for a new account with Kaltura Virtual Classroom! **
All NIC employees automatically have a Kaltura account for creating videos, uploading videos and also using the Virtual Classroom tool. Instructors also have a virtual classroom set up in each of their Brightspace courses (Tools > Kaltura Media Gallery > Start Meeting) which is persistent meaning it is always there to use.
Instructors and students can create their own persistent rooms outside of Brightspace via NIC's Kaltura MediaSpace after logging in with NIC credentials– https://video.nic.bc.ca > My Rooms > + New Room. Kaltura Classroom/Meeting Rooms do not expire, are ongoing until you delete them and allow you to have one (or many) room links to use for however long you need them. 

All participants need an up-to-date browser with microphone and webcam enabled. Quick Tech Check is helpful. Kaltura also has a video conferencing mobile app (Android, iOS).
11. Will students be able to create their own Kaltura Virtual Classroom Meeting Rooms/Links?
Yes. Unlike BlueJeans (where they needed an account), students (and instructors) already have the ability to make their own meetings by creating 'rooms' with links in NIC's front-end (public) of Kaltura called MediaSpace after logging in with NIC credentials– https://video.nic.bc.ca > My Rooms > + New Room (create a name for the room, go into the room, grab the link and share with whoever you wish!). You never 'schedule' or create specific times and dates for meeting invites. Instead you create a persistent room (or many rooms) that never go away.
A Kaltura room never disappears unless you delete it – always continuous, persistent, and with no end dates. Students and instructors cannot create new rooms within Brightspace because a room is already created for each Brightspace course. Instructors can copy the link from each course and share with students who want to join the class from outside Brightspace.
12. What are the recommended browser, settings and bandwidth to use Kaltura Virtual Classroom?
Given that Kaltura Virtual Classroom is browser-based, Kaltura recommends an up-to-date Chrome, Firefox or Edge browser for Windows (8.1, 10 and 11) and Mac (OS X, 10.9 or later). Safari use requires downloading an app. **Chrome is strongly recommended** See System Requirements Page. Kaltura also has a video conferencing mobile app (Android, iOS). If students and instructors use the recommended browser and it is up to date, has third party cookies enabled and the minimum required bandwidth available – all participants should have an easy one-click access to the platform. See student NIC Learn Anywhere page for tips.
13. Where can I learn more about Kaltura Virtual Classroom?
The Centre for Teaching and Learning Innovation (CTLI) is hosting learning sessions in Kaltura Virtual Classroom platform. Look for emails from CTLI for more info or access this Teach Anywhere webpage listing of all Kaltura sessions.
If none of the times work for you, submit a NIC Service Desk ticket to the Teaching, Learning and Classroom Support menu item > Brightspace and Kaltura. CTLI will respond to your request.
Better yet – you can start learning about Kaltura's platform via 3 minute guided tour video, visit NIC's Teach Anywhere page or Kaltura's Knowledge Centre page or explore the various videos on the Kaltura Meetings/Virtual Classroom page. Kaltura Virtual Classroom Instructor Guide is a visually easy PDF to learn more. The Student User Guide is also helpful.
14. Can Student Technical Services do a Kaltura Virtual Classroom orientation session for my students?

You can submit a general NIC Service Desk ticket to request a student orientation to Kaltura Virtual Classroom given that you provide the date, time, course and the Brightspace Kaltura Classroom link (found in Tools > Kaltura Media Gallery > Start Meeting > Invite). Someone from Student Technical Services will be in touch to schedule an orientation.
NEXT STEPS TO WIND DOWN BLUEJEANS
15. When should I stop using BlueJeans? Can I stop now and switch?
All online courses (blended, digital scheduled, digital unscheduled) and any in-person courses that use BlueJeans should make the switch away from BlueJeans to Kaltura Virtual Classroom by December 31, 2023 at the latest. If possible, make the switch sooner than later. For all classes not yet started, make the switch right now and update your course outline. If you are part way through a course and want to make the change now – you can do so. Alternatively you can wait to switch if the course finishes by December.
16. What happens to all my existing scheduled BlueJeans meetings after BlueJeans is retired?

They will not work. All of your existing and scheduled BlueJeans meetings will not work after early 2024. Reschedule all BlueJeans meetings in the upcoming months and replace them a Kaltura Virtual Classroom link or just use the Virtual Classroom space in each of your Brightspace courses (called Start Meeting found under Tools > Kaltura Media Gallery in each course).
17. What will happen to all my saved BlueJeans recordings when it shuts down?
All of your recordings will be gone. You will need to download any recordings you want to keep and upload them to Kaltura for storage and future access. If you do not download your recordings they will be lost forever. If your recordings are linked to your Brightspace courses you will need to swap out the BlueJeans link for the Kaltura link. There is a bulk download option to do all of your recordings. See Instructions. Contact the NIC Service Desk with any questions.
18. When will students learn about BlueJeans being retired and Kaltura Virtual Classroom as the replacement?
You, the instructor, are the best way for students to learn about BlueJeans being retired. If you choose to make the change midway through your course, you can let your students know what is happening. If you are starting a new course, students will just follow your lead.
NIC will be sending a campus-wide email to students to let them know that NIC has only ONE web conferencing platform for courses – Kaltura Virtual Classroom. The information may also be included in a NIC Student newsletter, on the main page of the Student Technical Services and/or on NIC Learn Anywhere website in due time. As of January 1, 2024 NIC students will be told that instructors will be using Kaltura Virtual Classroom for all instructional meetings, classes, courses, office hours etc.
Kaltura Virtual Classroom Interface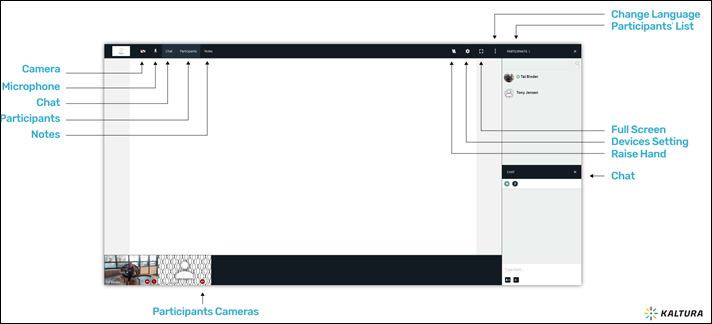 Collaborative Whiteboard in a Breakout Room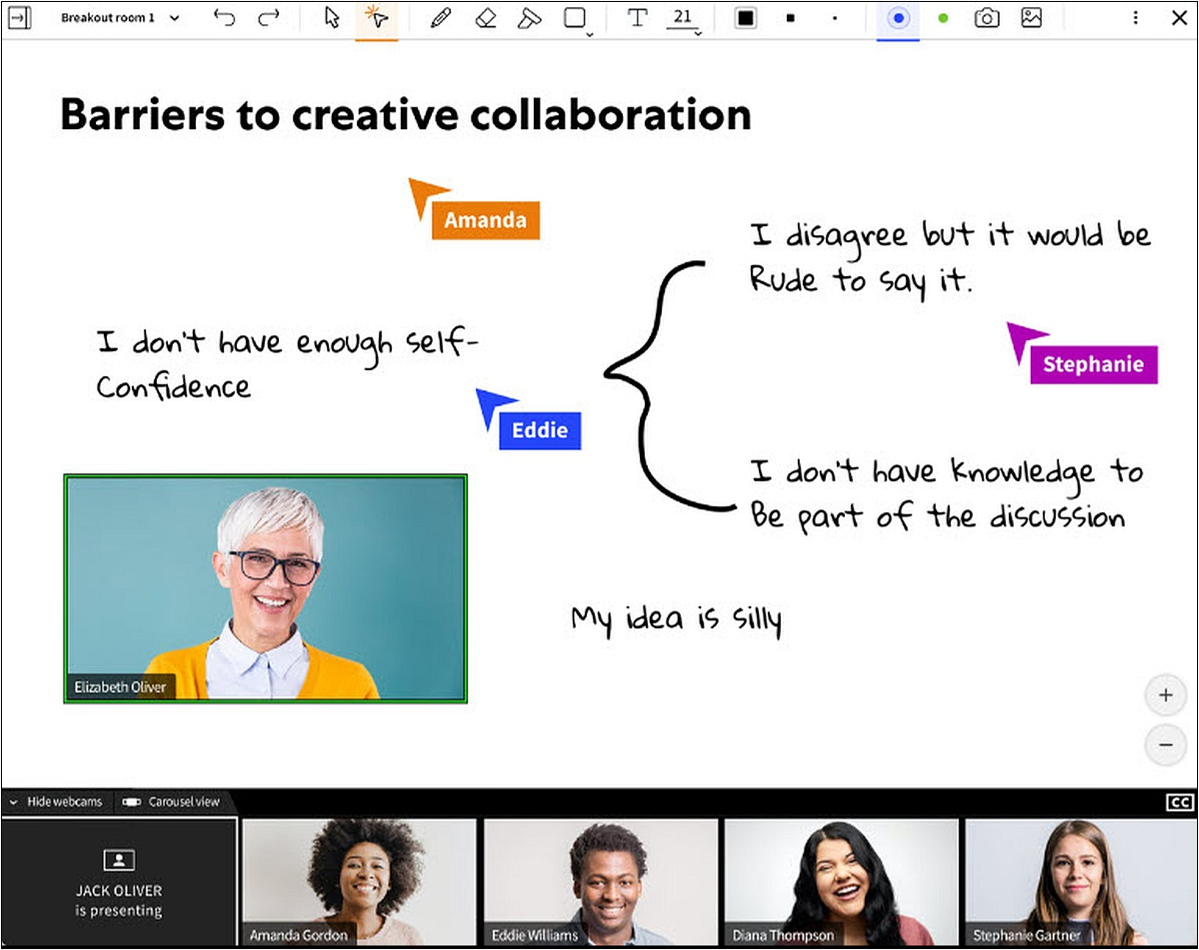 Instructor Setting Up a Breakout Room