When we understand how culture may impact approaches to both teaching and learning, this section includes resources to support understanding classroom dynamics from different cultural perspectives and ways of engaging learners across diversity.
See also the section on Practices + Pedagogies / Pedagogies of Care and Open Pedagogy
Meet our New international Students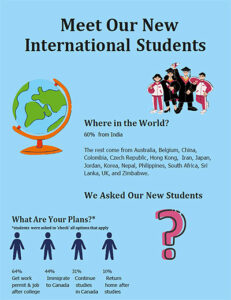 In order to gain more of an idea of who our students are, in Fall 2021 we surveyed incoming students about:
their beliefs / experiences about how they learn best

what they hope to do after graduating from NIC
Our survey had a 38% response rate, which is impressive for an online survey and considering all the hurdles students had to navigate to get here. You can find the results of this survey in this PDF document: Meet Our New International Students Fall 2021
It's also useful to know: Where are our International Students Fall 2021 This infographic also provides some suggestions for teaching strategies to support diverse students.
Eight Tips for Supporting International Students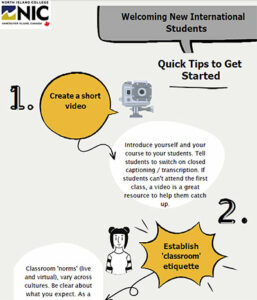 Whether it's your first time welcoming new international students into your class or you're looking for something new to try, here are eight quick and easy tips for supporting new international students as they begin their studies here at NIC. Link to: NIC Eight Tips for Supporting International Students
If you'd like to chat about ideas specific to your class, please email Margaret at Margaret.Hearnden@nic.bc.ca