All of these actions can be done without the need to put in a helpdesk ticket.
Short videos, handouts and website instructions are provided for any NIC instructor with a Blackboard Learn account (able to log into Blackboard Learn) to follow and do.
1. Create a Back-up Copy of your Course
There are several ways you can copy all, or parts of your course depending on why you need the copy. This table highlights the types of back-up and copy functions available and the features of each. You can find more detailed information on how to export, archive, and copy course materials below the table.
What is it called?

What does it do?

How can you use it?

How often should you do this?

Export

Creates a downloadable copy of your course content (without student data) in a .zip file format

Save to your hard drive as well as NIC P (personal network drive)
Re-use by importing into a new course
Share with another instructor who wants a copy of your course

Export a copy of your course content at beginning, middle and end of term (or after anytime you have added significant new content)

Archive

Creates a downloadable copy of your course content including student interactions (posts, assignments etc.) and grades in a .zip file.

Save to your hard drive as well as NIC P (personal network drive)
Keep a copy with student information for your records

Archive a copy of your course and student information including grades at least a couple of times during your course and at end of course

Copy

(see # 3 for details)

Allows you to copy course content from one course to another.
You must be an instructor in both courses.
Can be done with individual pieces of content or the entire contents of the course.

Copy content from a previous version of your course, a practice course, or a master course in your program into a new course.

Copy your course content when you are setting up a course you've taught before (or have instructor access to) and want to copy content into a new course shell
You have two options to create a back-up copy of your Blackboard Learn course: Export or Archive
Export: creates a copy of your course in a .zip file that you can keep as a back- up. It does not include any user interactions and you can select which parts of your course you want to export. This would be useful when you want to reuse a course or save a copy of your course content for safe keeping.
Archive: creates a copy of your course that includes all course content and user interactions, including student grades.This would be helpful for saving a copy of student data and grades (along with all course content), especially useful for safe keeping.
The .zip files created by both export and archive are only readable when imported back into Blackboard Learn. Do not attempt to open them. Do SAVE them in more than one spot for safe keeping!
Option 1: EXPORT YOUR COURSE
Option 2: ARCHIVE YOUR COURSE
2. Import a Backed up Course File (.zip) into a new Blackboard Course
This function is useful if you have saved a .zip file copy of your course, or, if someone has sent you a .zip file copy of a course and you want to upload it to a new course. Steps include:
In the Course Menu, navigate to 'Packages and Utilities' and then 'Import Package/View Logs'
Click 'Import package' and browse your computer for the backed up .zip file of the course you want to import
Select all, or just the parts of the course, you want to import and then choose 'submit'.
Instructions
3. Copy Course Content Between Courses
You can copy (all or some) of your course content into courses where you are enrolled as an instructor. This is different from a backup (export or an archive). There is no file to keep on your hard drive.
There are two options to copy course content – the first way is done by selecting MANY items and the second way choosing ONE item.
Option 1: Select Many Items from a Course to Copy to Another Course through the Course Menu
Packages and utilities > Course Copy
Instructions
Option 2: To choose One Item from a Course to copy into Another Course using the Item Menu
Look for the editing arrow beside the content you want to copy and choose 'copy'
Choose the destination course and folder and click submit
Instructions
*Note that you cannot copy tools such as tests, Journals, or discussions between courses by using the item menu. Tools like these that use student data have to be backed up using the steps above through packages and utilities.
4. Make Your Course Available to Students
There are two ways to make your course available (viewable) by students. By default all new courses in Blackboard Learn are "locked" (invisible) to students.
Here are two ways to make it visible.
1.Instructions for Making a Course Available Via Lock Icon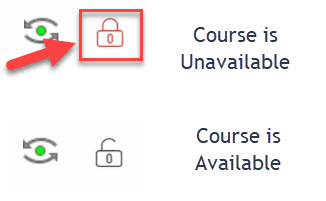 Look for the lock symbol at the top right of your course. It will be locked (unavailable) by default.
Click the lock symbol and your course will be open and available to students
If this doesn't work for you try clearing your browser cache, or use the instructions below for accessing course availability through properties.
2. Instructions for Making a Course Available Via Properties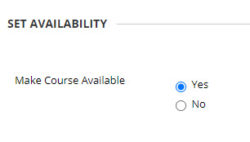 In the Course Menu, navigate to Customization, then Properties
Choose 'yes' to make your course available
Instructions
NOTE: When your course is over – you can make it 'unavailable' so it doesn't appear on student's course lists.
Click the lock back to unavailable, or go through properties and select 'no' under 'Set Availability'.
5. Add (and Delete) a User to Your Course
There are times that you may want to add a user to your course.You can do this yourself under Users and Groups in the Course Menu.
You can assign different roles with different levels of permission. You may wish to add another NIC instructor to your course for viewing course, sharing teaching duties etc. You have a choice of roles to add a new user (Course Builder, Facilitator, Grader, Instructor, Student and Teaching Assistant – Guest is disabled)
This process ensures you, the instructor, provide permission for another instructor to join your course as you will add them in.
If another instructor or support staff wishes to be added to a course, email the instructor and ask permission.
Instructions
Deleting a User: Instructors can only delete other instructors from their course (but first must switch their role to a 'student')
6. Customize (choose) your Course Entry Point (start page)
You can choose the entry point or start page for your course.
Depending on how your course was created or copied it will likely open on the Dashboard or a Content area.
Instructions
You can change this by navigating in the Course Menu to Customization > Teaching Style > Select Course Entry Point. From there you can choose the page that your course will open on.
NIC Video (direct link to media) or embedded below
7. Add a Tool Link to your Course Menu
If you are using tools such as Media Gallery, Journals, Blogs, and Assignments, you can create a link to those tools in your course menu navigation so that students can find them easily.
You can also create tool links in content areas so that the tools, (such as discussions and assignments), are available in context with the course content.
Instructions
8. Add Assignments
Using the Assignment Tool in Blackboard Learn allows you to accept, grade, and return student submissions all in one place.
Students receive an email 'receipt' when they submit an assignment and you can see when the assignment was submitted.
Creating an assignment in Blackboard will automatically create a column for that assignment in your grade center. When you grade the submission, the grade will appear for you in your grade center and for students under 'My Grades'.
How to Add an Assignment
Instructions
You can access student submissions from the Grade Center in your Course Menu. You have the option to view the 'full grade center' or filter by items that 'need grading.
Providing Feedback on Submissions
You can type feedback in a text box, mark up a document using inline grading or create an audio and/or video message.
Instructions
9. Back up your Grade Centre
If you want to keep a copy of your grade center, you can download all, or parts of it at any time during your course.
Navigate in the Course Menu to Grade Center, choose Full Grade Center
Look for the box that says: Work Offline
From there click 'Download'
You can choose to download your full Grade Center, individual columns, or, user information
You can download your grade center (to excel) to keep a copy
Instructions: This video from Blackboard shows how to download your grade center for working offline and then uploading your grades. You can choose just to download from these steps to keep a copy for your records.
Instructions
10. Organize your Course list
You can organize and hide courses on your course list.
In Blackboard click 'My institution' then, the gear symbol at the top right of the 'My Course' box.
You can choose to group your courses by term
Choose which courses and/or terms you want to see
Hide older/completed course from your course list
Instructions